Childhood hunger is something people talk about, but it may not be something you are very familiar with. You may think it is only a problem in third-world countries. You may not be aware of the many children in the United States who go to bed hungry each night. Feed the Children works to change this heartbreaking situation.
It's hard to believe that in a country with an abundance of grocery stores, many children may still go hungry. The reality is that despite the number of available places to buy food, some families struggle with putting food on the table for various reasons. Whatever the reason, no child deserves to suffer from hunger pains.
Ending Childhood Hunger
Not getting proper nutrition can harm a child in many ways. It affects development and health. Going hungry makes it difficult for a child to focus on school work and can make it tough to get through the day. It's a very difficult situation for a child to be in, and because children rely on adults to care for them, there is not much they can do themselves to fix the problem.
Some parents may not know how to fix their situation. They may have tried everything they can think of — even giving their children food but not eating themselves.
Things happen that can take a family from eating well to barely having enough food to scrape together. This is something that could happen to anyone, and what these families really need is care and compassion.
This problem can only be remedied when other people get involved in bringing awareness and help to those who need. One organization working to help stop childhood hunger is Feed the Children.
Feed the Children's History
Feed the Children was started in 1979 with the main goal of ending childhood hunger. Ensuring that there is not a single hungry child is a lofty goal, which the organization has been working to achieve for decades.
It is a non-profit organization sustained by donations and other funding, along with the help of plenty of volunteers. The organization has resolved to continue its work until there is not a single child who has to face bedtime with hunger pains.
The organization takes a multi-faceted approach toward its goal. It works with experts in the field, community leaders, volunteers, and corporate partners to put forth programs and do outreach to help feed children in the US and around the world. Everyone comes together to provide education, funding, services, and food for those in need.
At the core of the organization lies a strong foundation in the Christian faith and Christian principles. These are upheld in everything the organization and its representatives do. It works hard to help those it provides assistance to with dignity.
It stands strong on integrity and values everyone who is involved in its mission. When people donate to the organization, the money is carefully spent to ensure it does the maximum it can to help children, with 91 percent of the money coming in going directly to outreach services.
Feed the Children is headquartered in Oklahoma City, Oklahoma. It does charity work throughout the US and in 10 other countries. As well as outreach in communities, it provides help when disasters strike. It has distribution centers in five states.
The organization is accredited by the BBB Wise Giving Alliance and GuideStar exchange. It also has a strong partnership with the National Association of Educators for Homeless Children and Youth.
Feed the Children's Reputation
Charity Navigator rated Feed the Children with overall four out of four stars for fiscal responsibility and accountability. The charity received a score of 92.68 out of 100 for financial practices and a rating of 97.00 out of a 100 for accountability and transparency.
Feed the Children's financial records
Tax-exempt organizations, nonexempt charitable trusts, and section 527 political organizations are required to file a Form 990 or 990EZ with the IRS.
Feed the Children's most recent IRS Form 990 or 990EZ available is for 2017. We found the following financial information on the organization's most recent publicly available tax filing for their fiscal year ending June 2017. This financial data can give you a clearer picture of how wisely they use available funds.
Percentage of donations spent on services
Total donations and grants: $406,891,150
Spent on services and grants: $399,825,740
Percentage of donations toward grants and services: 98.26 percent
Percentage of revenue spent on fundraising
Total revenue: $409,829,103
Fundraising expenses: $15,049,262
Paid to professional fundraisers: $2,389,791
Percentage of total revenue spent on fundraising: 3.67 percent
Administrative and overhead costs
Overhead expenses: $11,325,730
Property assets: $18,478,422
Investment assets: $22,642,093
Paid to officers/directors: $2,035,316
Highest paid officer/director: CEO $502,805
Percentage of total revenue spent on officers/directors salaries: 0.49 percent
How the Organization Helps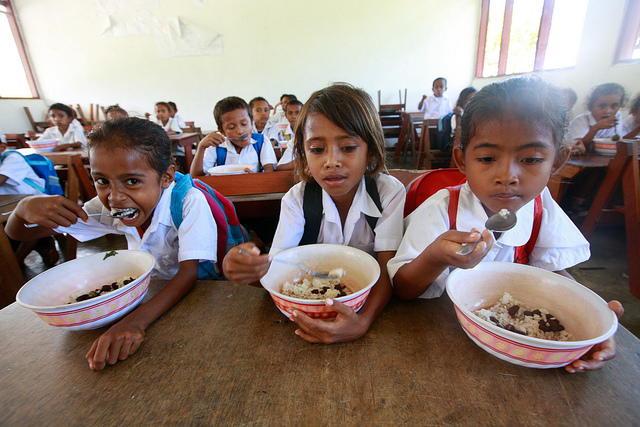 Feed the Children helps out communities in many ways and always with the main goal of focusing on ensuring children are getting healthy and adequate meals. The organization often steps in during disaster situations to provide food to victims.
Within the US, the organization distributes food and other supplies to families in need. It works with corporate partners to offer these donations, along with providing them in five distribution centers. Through a network of partners, the organization is able to get food to families in need throughout the country.
Internationally, the organization assists with various projects, not just involving food. It has worked with programs providing medical assistance and with orphanages. The Feed the Children organization also helps communities to work on sustainable food source development.
Getting food into the hands of those who need it is only part of what the organization does. It understands that to really wipe out childhood hunger, the underlying causes need to be addressed.
So, part of the Feed the Children mission is to help address the reasons for childhood hunger by helping parents find ways to properly feed their children and access food sources that are available long-term.
For example, they work to create community gardens and teach individuals about sustainable food sources. The goal is to make it easier for people to get food despite roadblocks, such as a lack of money.
Feed the Children has its own transportation company they use to truck donations all over the country. This part of the organization is for-profit, but it is used to help fund the non-profit side of the organization.
Getting Involved with Feed the Children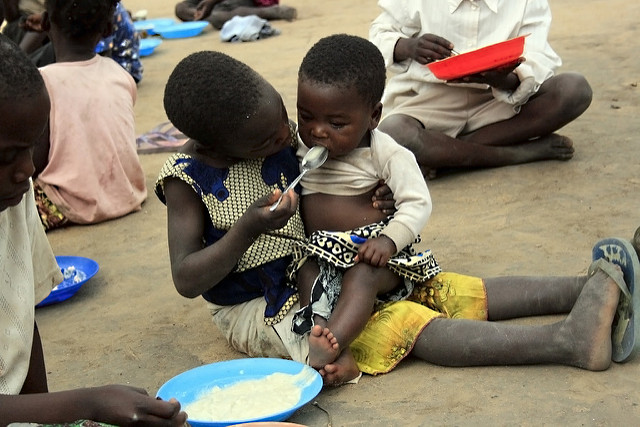 If you are passionate about stopping childhood hunger, then you can get involved with Feed the Children. One of the top ways to help out is to donate money. Donations help pay for food, supplies, and other related expenses needed to get the food out to the communities.
You can also propose special events or projects to help raise even more money. Companies can also be a part of the donation program through partnerships or ongoing donations.
The organization also allows the sponsorship of a child. You can choose to be the sponsor of a specific boy or girl who will receive benefits from your donations.
This can help some people who want to know who the donations are going toward. It also gives you a real sense of doing good in the life of a child whose name you know.
Churches and Organizations
Churches and other faith organizations also have the opportunity to partner with Feed the Children to offer support and donations. If a group wishes to get involved, it can create an outreach program within its own organization to gather donations.
Beyond cash donations, the organization will also take donations of food items and other needed supplies. Corporations can donate directly, and the organization will pick up the donations. You can also give stocks and bonds, along with leaving donations through an estate.
Finally, the organization also takes vehicle donations. When a vehicle is donated, you get to use it as a tax deduction. You can get rid of an unwanted vehicle easily. The organization offers free pickup of any vehicle donated and will tow it away free of charge.
All types of vehicles, including RVs, ATVs, boats, and motorcycles, are accepted, and they do not have to be in good condition.
Feed the Children has been fighting childhood hunger for a long time. The organization has developed a good system to provide food and assistance to those who need it. Its efforts have helped countless families get the food they need.
It has also worked to help communities by introducing them to solutions to wipe out hunger in areas where it is needed the most.
The organization gets plenty of help in its mission. It has partnered with many corporations, other organizations, and individuals to help stop children from having to face another day without enough to eat. Combined efforts help Feed the Children become stronger and more able to help people in even more places.
The distribution centers and transportation company portion of the organization allows Feed the Children to operate from its Oklahoma headquarters throughout the US.
Conclusion
Feed the Children can reach out to communities far from the headquarters location. It also reaches out around the world with activities in 10 other countries where hunger is an issue.
By providing food and offering services, the organization is able to help change lives. People get information and assistance so that the help they receive continues on long after the food box they receive may be empty.
Feed the Children focuses on long-term solutions. Giving a food box to a hungry family may help right now, but it won't keep them from being hungry again next week.
The organization works to help provide sustainable sources for food that can feed a hungry family far beyond the time they are involved directly with the organization.
It is through its Christian values and hard work that Feed the Children has been able to help so many. While the battle against childhood hunger is not over and may never be, this organization has done a lot of good and helped many people when they were likely feeling alone.
Many children have had the satisfaction of going to bed with a full belly because people cared enough about Feed the Children's mission to help.