In a world that is seemingly full of bad news and bad feelings, more people are looking for ways to spend their time or money helping others. Feed My Starving Children (FMSC) is a non-profit organization that has been providing nutritious meals for children all around the world for more than two decades. Read on to learn more about this non-profit charity and its impact.
Mission Statement Of Feed My Starving Children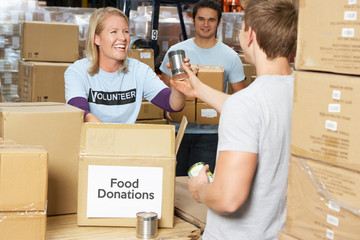 As a non-profit, Christian organization, Feed My Starving Children has a mission to feed God's children, both physically and spiritually. The charity wants to spread the word of God while helping people to lead healthier lives and receive nutritious meals.
History of the Charity
In 1982, a businessman from Minnesota went on a mission trip to Honduras. There, Richard Proudfit felt a calling by God to feed the starving children. He worked tirelessly for five years and in 1987, he founded Feed My Starving Children.
By 1993, a team of food scientists from Cargill, along with colleagues from Pillsbury and General Mills, helped Proudfit to create a rice meal formula fortified with extra vitamins and minerals. It was especially helpful for young, malnourished children. Between 2008 and 2010, FMSC started shipping Potato-D and Potato-W as well. The D product treats diarrhea, which is a leading killer of children all around the world, and the W formula is for weaning babies and providing nutrients for those up to 12 months of age.
Fortified rice soy casserole
Volunteers began producing rice meal, then known as Fortified Rice Soy Casserole, in 1994. There was some difficulty with packaging the formula because cartons, machine-canning, and bottles weren't useful for the product, so Green Giant donated 1 million plastic bags from one of its discontinued products. After board members test-packed several bags, volunteers took over. The first meal shipments were sent to a pediatric hospital in Rwanda, Africa, after FMSC partnered with Operation Blessing. Additional shipments went to Haiti, Paraguay, and Belarus.
Between 1998 and 2004, FMSC went through many changes. It was struggling to produce more than 2 or 3 million meals annually, and Proudfit left in 1998 to start a new charity. By 2004, the board hired its current CEO, Mark Crea, and the organization rededicated itself to Christ and made prayer a priority at every meeting. From there, support increased.
Expanded to more sites
Since 2004, the organization has expanded its sites as well. From Brooklyn Park, Minnesota, it expanded to Eagan and then to Chanhassen. In 2006, the charity expanded to Illinois, and by 2011, it was in Arizona. Today, there are also branches in Georgia and Pennsylvania. Sometimes, the organization also hosts Mobilepacks. These events go to schools and have the students or other members of the community volunteer to pack meals.
FMSC also works with several other programs, including the Coalition of Relief Organizations Promoting Practical Solutions (CROPPS) and Project-Based Food Assistance (PBFA). Today, the organization has shipped food to more than 70 countries with more than 99 percent of its shipments arriving safely. More than 1.1 million volunteers made it possible.
Here's a video of the history of Feed My Starving Children
Facts and Figures
Feed My Starving Children is known for its integrity and spends more than 90 percent of its donations directly on feeding children in need. The organization's 2016-2017 report included the following information.
More than 333 million meals produced

More than 1.2 million volunteers

779,000 children fed daily

More than 62.5 million in revenue

More than 59.8 million in expenses

About 11.5 million in assets at the end of the year
Based on data from 2017, Charity Navigator gave Feed My Starving Children a 92.92 out of 100 on March 1, 2018. FMSC received a 90 on its financial scorecard and a 100 on accountability and transparency. Overall, it is a solid non-profit organization that is a good choice if you are looking for a place to volunteer or to donate funds.
Feed My Starving Children's financial profile
Tax-exempt organizations, nonexempt charitable trusts, and section 527 political organizations must file a Form 990 or 990EZ with the IRS.
Feed My Starving Children's most recent IRS Form 990 or 990EZ available is for 2018. We extracted the following financial data from the organization's most recent publicly available tax return for its fiscal year ending February 2018. This financial statement can give you a clearer picture of how well Feed My Starving Children uses their resources.
Percentage of donations spent on services
Total donations and grants: $40,857,747
Spent on services and grants: $33,954,742
Percentage of donations toward grants and services: 83.10 Percent
Percentage of revenue spent on fundraising
Total revenue: $41,985,008
Fundraising expenses: $3,114,557
Paid to professional fundraisers: $0.00
Percentage of total revenue spent on fundraising: 7.41 percent
Administrative and overhead costs
Overhead expenses: $2,757,620
Property assets: $4,102,585
Investment assets: $
Paid to officers/directors: $942,994 ()
Highest paid officer/director: CEO $229,365
Percentage of total revenue spent on officers/directors salaries: 2.24 percent
People Behind the Organization of Feed My Starving Children
Feed My Starving Children has a national board of directors as well as councils in Arizona, Illinois, Minnesota, and Texas. It also employs an executive staff.
Executive Director
The executive director and CEO of the organization is Mark Crea. Crea joined the charity in 2004 and has helped to create a 46-percent growth since then. He has 38 years of experience in the non-profit sector and has worked on the development of a number of organizations, including the Hazelden Foundation.
Vice President of Manufacturing
Laura Bernard is the Vice President of Manufacturing. She oversees food packaging at all seven packing sites across the country. Bernard joined the organization as a part-time Event Team Leader in 2005 and has held several other positions before entering her current post. She has more than a decade of non-profit experience, including working with the Danish American Center.
Vice President of Development & Marketing
As the Vice President of Development and Marketing, Andy Carr is responsible for fundraising and marketing for FMSC. He joined in 2013 after volunteering for the organization. Before working with FMSC, Carr helped to establish a global sales force for AIR-serv.
Vice President of International Programs & Supply Chain
Matt Muraski has been the Vice President of International Programs and Supply Chain since 2006. He oversees the distribution of the organization's food products in more than 45 countries. Prior to working with FMSC, Muraski was in the medical device manufacturing industry for 22 years.
Vice President of Human Resources
Since 2004, the Vice President of Human resources, Jeanie Picardi, has handled all HR functions for Feed My Starving Children. She has two decades of experience in the non-profit sector and has served in many leadership positions.
Vice President of Finance
Dan Stennes-Rogness became the Vice President of Finance in 2014. Before that, he was on the finance committee for four years. Stennes-Rogness oversees all of FMSC's financial activities, including reports, audits, budgets, and risk management. He has been working for non-profit organizations for about three decades.
Ways to Volunteer For Feed My Starving Children
If you're a concerned individual, who would like to help with Feed My Starving Children. There are several ways you can do so. If you're fun and energetic, you may want to volunteer at one of the food packaging locations. Here, you'll hand-pack rice, dried vegetables, soy, and a blend of minerals and vitamins into bags before someone else seals them, boxes them, and prepares them for shipment around the world.
If you don't live in a state that houses one of FMSC's packing facilities, don't worry. MobilePack events are held all over the country. These events allow you to pack food bags for a few hours and meet new people along the way. Registration for MobilePack events is open for up to six weeks before the event. In the past, FMSC has held packing events in Lexington, Kentucky, Tulsa, Oklahoma, and Albuquerque, New Mexico. You can also choose to host one of these events if you can come up with 500 volunteers and pay for all the packed meals. You'll need a minimum space of 2,300 square feet for the event.
Speak to a crowd
Perhaps you aren't good on your feet but do know how to speak to a crowd. Feed My Starving Children looks for people who want to travel the country and tell people about the organization and its mission. Currently, speakers must be from Arizona, Minnesota, Texas, or Illinois.
International travel is an option as well. FMSC partners with Praying Pelican Missions to send volunteers to the communities that receive its food packages. They join other volunteers to visit distribution partners, encourage participants, and contribute to distribution. Volunteers also help with community development and the children's ministry.
Feed My Starving Children also hosts galas each year. The 2017 event was held in Illinois and raised more than $700,000.
Ways to Donate
Sometimes, people want to help Feed My Starving Children but do not have the time or the physical ability to volunteer. For those who wish to, fundraising and donating are also options. If you'd like to host a fundraising event, you must complete an application for Third Party Fundraisers and set up an online fundraising page on the charity's website. You can then plan an event to raise money for the organization. FMSC will help you bring a speaker to your event if you wish.
Donations are also an option. You can choose to make a one-time donation, or you can set up a monthly donation plan. Donations can be made using a transfer from your bank account or a credit card. Some people also choose to make Feed My Starving Children a beneficiary in their wills.
The MarketPlace
Feed My Starving Children also houses the International FMSC MarketPlace. The organization purchases handmade goods from artisans in the communities that receive the organization's meals. Nicaragua, Kenya, and Haiti are just some of the countries that benefit. It then resells the items in the online MarketPlace and at packing sites and events. Profits go back into the feeding program. During the 2017-2018 fiscal year, FMSC purchased goods from more than 2,300 artisans. The profits provided more than 5.3 million meals. Available products include everything from jewelry and accessories to home decor, candles, and even food.